NSS
The NSS unit in college was established in 1972. It aims at developing students' personality through community services. NSS is a voluntary association of young people in college for a campus-community linkage. The cardinal principle of the NSS is that it is organized by the students themselves. Both students and teachers, through their combined participation in community service, get a sense of involvement in the tasks of nation building. NSS students are enrolled for need based social activities mostly with in the village community. To prepare their mindset for any kind of the social work they are given training in first aid, adult education, mass literacy, stitching, embroidery etc.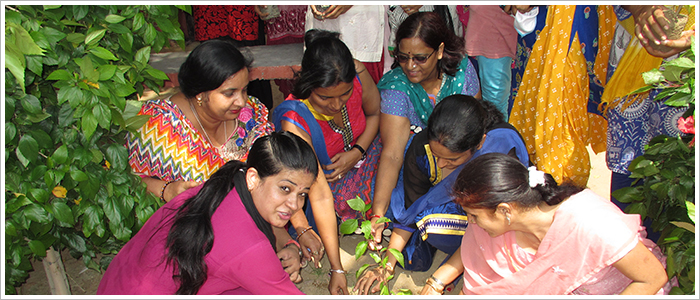 Objectives:-
To enable the students to understand the role of community in the work.
To understand their position in relation to their community.
To identify the needs and problems of the community in the solution of which they can be involved.
To develop among themselves a sense of social and civic responsibility.
To develop competence required for good living and sharing responsibilities.
To acquire leadership qualities and democratic attitude.
To develop capacity to meet emergencies and national disasters.
To practice national integration.

Activities (2016-17):-
Mrs. Piyusha Sharma registered 216 NSS Volunteers in the month of July, i.e. 16.07.216 to 31.07.2016
A one day camp was organized on"Tree Plantation" in which 52 NSS volunteers participated. Principal Mrs. Nisha Bhatia inaugurated this camp and motivated the volunteers to become independent on August 9, 2016.
A documentary movie on HIV-AIDS was also shown to 250 girls in college campus as directed by DHE, Panchkula.
10 NSS Volunteers of the college participated in Poster Making Competition that was held in District Level Blood Donation Camp, GJU, Hisar.
Mrs. Piyusha Sharma and NSS volunteers participated in National Workshop on the topic 'Digital India' that was held in GJU, Hisar, dated on 21.10.2016.
Birthday of Sardar Vallabh Bhai Patel was celebrated and on this occasion Poster Making and Slogan Writing competition were held on 31 October,2016.
NSS and Legal Literacy cell organised a lecture on "Corruption and India" on 2nd Nov, 2016, with the help of PNB, Hisar in which Sh. J.N. Sharma, Manager PNB and Sh. B.K. Dhingra, Chief LDM, PNB, interacted with the students and told about corruption and its demerits.
NSS organised a seven days camp from Jan. 3, 2017 to Jan 9, 2017. The theme of this camp was vocational training so that the volunteers can learn different skills and employe themselves in their future and also serve the society without self-interest. Principal, Ms. Madhu Kakkar inaugurated the camp and she told the volunteers how they can help the poor and needy people.