From the Desk of Principal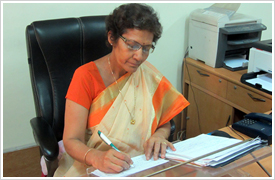 Choosing where to pursue your education is a major decision and I strongly believe that F.C. College will be a choice you will feel proud of, especially if you are conscientious and determined to succeed. At F.C. College, we have a shared vision to drive excellence in education for women. Women are leaders in all fields, from being the CEO of a Fortune 500 company to the housewife who raises her children successfully. Our country was built by strong women and we are dedicated to significantly contribute in educating & shaping the next generation of quality women leaders.
F.C. College has tremendously grown since its inception through the earnest endeavours of a highly committed & talented teaching & support staff. We strive to provide the best possible environment for students to evolve and succeed and set high standards of discipline & academics for students to achieve. We encourage a well-rounded development with award-winning representations in the fields of sports, dramatics, music, dance to name a few.
Working as a strong, motivated and creative unit, we- students, parents & the college, are confident to bring continuous improvements & achieve greater heights.

Principal