Science
A basic human motivator is to try to understand 'WHY'? curiosity about the world around us is the foundation of invention. Teaching science can nurture that curiosity & satisfy some of that yearning to understand 'WHY'? having methodology to turn our native curiosity into knowledge gives us the power & possibility of invention of finding solutions to problems. Countries with strongly supported science programs are better off economically have greater number of people creating new technologies.
We, the Deptt. Of Science try to make studying science as attractive as learning.
In science stream we have four subject combinations:-
BSc(Med)-Botany, Zoology & Chemistry.
BSc Med with Biotechnology -Botany,Zoology & Biotechnology.
BSc Non Medical -Physics,Chemistry & Maths.
Bsc Non Medical with Computer Science-Physics,Maths & Computer Science
Activities -( 2016-2017)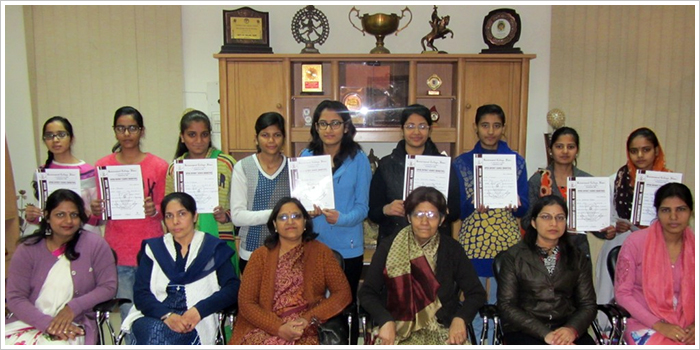 24-08-2016:- A Career oriented Talk was organised by Deptt. of Botany on 24-08-2016.Mr Harish Vij from D.N. College, Hisar gave a lecture on different courses, about the universities which offer these courses, the eligibility criteria, how & when to apply? & future prospects after passing BSc(Med.).

27-08-2016:- Department of Chemistry organised Chemistry Quiz For B.sc Students of our college.

30-08-2016:- Our team participated in State level Chemistry quiz, which was organised by D.N.college,HISAR on 30-08-2016. & got 3rd prize. Team: -( Priti-B.Sc.III, BhagyaShree- B.Sc-II,Sonika-B.ScII).

03-09-2016:-Science Deptt. Of our college organised Science Quiz in the college.

6-09-2016:- Govt P.G. College, Hisar organised District Level Science Quiz Screenings for the last teams were done our team was also selected.

07-09-2016:- Our Team (Priti-B.Sc.III, BhagyaShree BscII, and Sonika(B.Sc II) was further selected for zonal level Science Quiz.

5-10-2016: -Science Deptt. Organised Essay Writing Competition in college.

7/10/2016 :-Ten students of our college participated in district level Essay Writing Competition in Govt. P.G. College ,Hisar. Sandhya(Bsc II)was selected for Zonal level essay writing competition.

3/11/2016:-Our winner team of district level science quiz participated in Govt. P.G. College,Hisar for Zonal level Science Quiz.

7/9/2016:- Department of Physics:-Organised a talk on Research Methodology .The lecture was delivered by Dr. Mukhtyar Singh,Assisstant Prof.,Department of Physics D. N .College Hisar on 7/11/2016.

5/12/2016 :- Deptt. Of Science Organised world Soil day. Dr. Seema Gupta delivered a talk regarding the importance & conservation of soil in assembly.

24/01/2017:-Sandhya(B.Sc II) participated in state level essay writing competition, which was held in Kurukshetra University, Kurukshetra .168 students (Winners from different Zones) participated in the event.

8/2/2017-9/2/17:-Govt: P.G. College,Hisar organised District Level Science Exhibition on 8/02/2017 in which Department of Botany got IInd prize. The topic was ," A step towards Allergy free world".Isha & Neha from Bsc II presented the Model.

16/03/17:-Department of Botany organised a lecture for BSc(Med) students on 'Plant Tissue Culture and Biology of Agrobacterium' on 16/03/17.The lecture was delivered by Dr. Sunil Kumar,Assisstant Professor,Department Of Botany,CRM Jat College,Hisar.

17/03/2017:-Department of Zoology organised an educational visit to Aquaculture Research & Training Institute, Hisar on 17/03/2017for BSc III students. Students learn how to culture the fish & also visited the lab there.

Department of Botany:- Got IInd Prize & Ritambhara(B.Sc II) was declared as Best Explanator.
Topic:- A Smart City
Ritambhara & Jhanvi from B.Sc II presented this model.
Chemistry Department:- Got IInd Prize Bhagya Shree(B.ScII) was best explanator.
Zoology Department:-
Topic:-An Integrated Fish Farming
Tishima (BScIII) & Pinki (B.SC II) presented this model.
Students of BSc participated in different competition on National Science Day 2017 which was celebrated in college of Basic Science & Humanities, CCS HAU Hisar. Different competitions were held .
In Quiz :-Sonika(BSc II), Pooja (BSc II) & Deepa (BSc III) Participated. For Poster making competition:-Ritu (BSc) got 2nd Prize.